The Welcoming Committee is a resource for all me
mbers. They are the friends to the new and the old - a helpful voice that steps forward to assist the lost and confused. Their charge is one of service, rather than moderation. They'll keep a sharp eye trained on the #Support forum, and patrol the community in search of fresh faces that need a welcoming hand.
Group History
Edit
The Group was created on the 25th of January 2012, at that time only active ninjas were added to the group which came to a total of 22 members including DeeJ and Urk.
On January the 29th, 2013 the members from a now dis-used chapter called 'The Welcome Wagon' were transfered over. This was annouced later on in February on the 11th, 2013.
At this point the roster had 37 members, that consist of Bungie Employees, Ninjas, and regular community members.
Forum Mentors

Edit
On June 24th, 2014, the first batch of non Ninjas/Bungie were granted the forum badge of "Mentor" the Welcoming Committee. This marked the first time in bungie.net history that there is different priveledged type of responsibility within the new bungie.net community. Mentors are classified as the "Shield" of bungie.net, while the Ninjas remain as the "Sword" of the community.
Forum Mentors primary responsibilities rely in the Support/Help forum as well as welcoming new members and assisting them questions pertaining to the site. It has been found that they also have the abilitiy to edit forum posts just like the forum ninjas.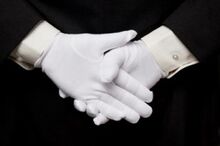 25th January 2012
Edit
DeeJ (Founder)
Urk
Qbix
Old Papa Rich
The Slayer
Recon Number 54
True Underdog
Evilcam
Duardo
Dazarobbo
FoMan123
DrWeird
BorrowedChief
El Roboto
Just Another Fan
dmbfan09
Bobcast
Lord Revan
Yozzel
Ash55
Butane
TomT
29th January 2013
Edit
ChorrizoTapatio
EZcompany2ndsqd
AmericanRecoil
Arbitor5
dmg04
Bricypoo
Zoobkillerninja
lijeu
Halcylon
29th November 2013
Edit
Spawn
Hylebos
Malfar
MoonDawg
Achronos
Master
Noble Iron Sky
ViaAlliance
Ad blocker interference detected!
Wikia is a free-to-use site that makes money from advertising. We have a modified experience for viewers using ad blockers

Wikia is not accessible if you've made further modifications. Remove the custom ad blocker rule(s) and the page will load as expected.