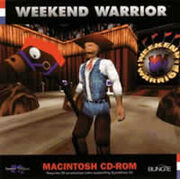 Weekend warrior was a game by Bungie and Pangea software in 1996. You took the role of a contestant in a game show entitled "Weekend Warrior" the game show where you risk your life to win cash and valuable prizes. There are 8 game arenas, A fun house, a mayan temple, an abandoned copper mine, the Old west, a Garden, a Space station, a Haunted house, and a pagoda building.
Ad blocker interference detected!
Wikia is a free-to-use site that makes money from advertising. We have a modified experience for viewers using ad blockers

Wikia is not accessible if you've made further modifications. Remove the custom ad blocker rule(s) and the page will load as expected.