The user on this page is a Bungie.net Employee. For details and for a list of Bungie Employees, click here.
The Bungie Employee featured in this article is Old Skool.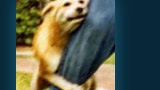 Nickname: travdogg Classification: OldSkool
Current Job: 3D Artist Origin: Earth
Blood Type: Classified Age: way younger than Marty
Weight: 175 pounds Height: 5'8"
Girth: See Weight
First Job: Peeling Cascara tree bark to sell for the production of constipation medications.
Hobby: Martial arts instructor, volleyball, scuba diving, and paintball. I also occasionally enjoy a good game of "full contact 'Pick-Up Sticks'"
Ultimate Halo Match: Classified
Ultimate Snack: Classified
Ultimate Website: Classified
Mode of Transport: Classified
Fake Weapon: Classified
Auto Biography
Edit
I worked in Hollywood at a young age as a stunt double for PeeWee Herman. And you may remember me as the face of Anakin Skywalker in Return of the Jedi. But after severely breaking my pinky finger as a washed up dog groomer to the stars, I decided Hollywood may not be the place for me. So I decided to settle into the low pressure industry of game development. I worked at Sierra Online for 7 years. Then I went to Valve Software and worked on Half-Life2, for three years, modeling characters and creatures. Which now brings me to Bungie, working on Halo. Soon to be the most funk-a-licious games of all time. Wheee! Avery was here.
Ad blocker interference detected!
Wikia is a free-to-use site that makes money from advertising. We have a modified experience for viewers using ad blockers

Wikia is not accessible if you've made further modifications. Remove the custom ad blocker rule(s) and the page will load as expected.