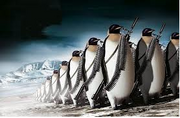 Writhed in mystery Team Penguin is lead by Astro4545. Team Penguin is the third team in the Potato Wars and was the one that started it.
Started March 5, 2014 by Astro4545 it has closely moniterd the Potato/Turtle conflict makeing sure that ii fired the fires of war. It has made sure there is people who are not involved in the conflict are not hurt, Recently it has recently been working on genetic experments trying to make the ultimiate PoTurtle.
The Penguin Army
Edit
The Penguin Army consits of:
400,000,000,424 troops
50,000,000,053 squads
12,500,000,013 platoons
2,500,000,002 companies
416,666,667 battalions
104,166,666 brigades
52,083,333 Divisions
13,020,833 Corps
6,510,416 Armies
1,627,604 Army Groups
406,901 Army Regions
101,725 Theaters
All Lead by Astro4545
Ad blocker interference detected!
Wikia is a free-to-use site that makes money from advertising. We have a modified experience for viewers using ad blockers

Wikia is not accessible if you've made further modifications. Remove the custom ad blocker rule(s) and the page will load as expected.