The user on this page is a Bungie.net Employee. For details and for a list of Bungie Employees, click here.
The Bungie Employee featured in this article is Old Skool.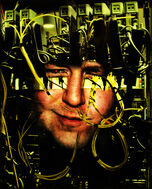 Nickname: Classified
Classification: OldSkool
Current Job: IT Director
Origin: Bochum, just left of Eta Carinae
Blood Type: Spattered, usually all over the place.
Age: 45
Weight: Enough
Height: 6'0"
Girth: Hey, I still fit in my Jeep.
First Job: Slingin slop at a nationwide chicken chain.
Hobby: Wheelin', Gamin', Music, Universe domination one world at a time.
Ultimate Halo Match: Anything where I win.
Ultimate Snack: Anything with teriyaki or peanut sauce.
Ultimate Website: http://bungie.net of course
Mode of Transport: Goes anywhere 2001 Jeep Wrangler
Fake Weapon: Reverse Induction Ion Pickle
Auto-Biography
Edit
Before coming to Bungie, I did a whole slew of IT related stuff from test lab design to an 8 year stint running a business designing machines for content creation Audio and 3d design, but that all looks really boring now.
Ad blocker interference detected!
Wikia is a free-to-use site that makes money from advertising. We have a modified experience for viewers using ad blockers

Wikia is not accessible if you've made further modifications. Remove the custom ad blocker rule(s) and the page will load as expected.