The user on this page is a Bungie.net Employee. For details and for a list of Bungie Employees, click here.
The Bungie Employee featured in this article is Old Skool.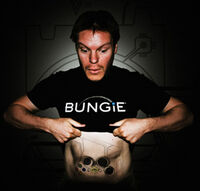 Nickname: Jonesy Classification: OldSkool
Current Job: Turkey Defluffer Origin: Limeyworld
Blood Type: Black
Age: 27
Weight: Big

Height: Yes
Girth: Bigger
First Job: Turkey Fluffer
Hobby: Turkey Fluffing
Ultimate Halo Match: Original Blood Gulch, Team Slayer
Ultimate Snack: Curry
Ultimate Website: That would be telling
Mode of Transport: Turkies
Fake Weapon: Your mom
Auto-Biography
Edit
I have a wife, Jasmina, who is the love of my life and BOSS OF THE WORLD, and I have an adorable kid, Theo, who is learning to point and burble. I married Jasmina 2 months ago and the little one appeared (as if by magic) a year ago. Five years ago I began at Rare in the UK and I ended my duties there by managing to fit in the completion of environment art leadership on Perfect Dark Zero and its DLC around June this year. What a year it has been thus far! And now Bungie...
Ad blocker interference detected!
Wikia is a free-to-use site that makes money from advertising. We have a modified experience for viewers using ad blockers

Wikia is not accessible if you've made further modifications. Remove the custom ad blocker rule(s) and the page will load as expected.