The user on this page is a Bungie.net Employee. For details and for a list of Bungie Employees, click here.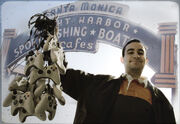 Nickname: r : w )
Classification: GrizzledAncients
Current Job: Server Software Development Lead
Origin: Highland Park, IL
Blood Type: Classified
Age: 29
Weight: 130 pounds
Height: 6'0"
Girth: Classified
Biography
Edit
Ever watchful of his Internet presence, Roger tends to pore over the hit logs of his websites and try to figure out who is watching him (this means you!) His contributions to Halo/Halo 2 tend toward the back-end, such as an internal server farm with a speedometer calibrated in units of Petabytes per Year. You may also spot Roger on the road several times a year, tempting crowds of Computer Science students with demos of the programming and debugging power of the Xbox platform.
Home Page - Information about Roger Wolfson (Sawnose).
Roger Wolfson's Bungie.net Profile (Sawnose)
Ad blocker interference detected!
Wikia is a free-to-use site that makes money from advertising. We have a modified experience for viewers using ad blockers

Wikia is not accessible if you've made further modifications. Remove the custom ad blocker rule(s) and the page will load as expected.