This article has not been laid out correctly.
The article does not comply with the Member/User Article Guide. To view the guide use this link: User Guide: Member Articles and User Pages. Please edit and change the page layout or this page may be deleted without further notice or warning.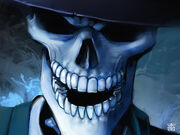 OPs Dad is a member who joined in late 2010, although he was on alternate accounts from 2009. His most famous thread where he and several other members performed a very successful hijack, resulting in a two week ban by Qbix89. He has made a few friends on the site, no enemys to date. Although in one of his groups there is a member who takes joy in annoying him, Suggestions8.
His most famous quote, known by his friends, originating from a Skype call with Teh Illusive Man, "Everything I touch turns to shit!" This was making note on the fact that every thread he tends to post in gets severaly de-railed beyond repair. And ends in a ban for him.
His life as a barman
Edit
There is one group, Vaporeons Lagoon(Yes this is subliminal advertising and yes I want you to join it), that has a single active super thread where he acts as the bar man and personal psychiatrist to Sgt Mag1, giving him emotional support and attention when ever he asks for it.
He is an avid poster in Jacaltastic with Teh Illusive Man. It was speculated that without them the group would collapse in on itself. There are several other groups that have been graced by his membership (Ego stroke).
Ad blocker interference detected!
Wikia is a free-to-use site that makes money from advertising. We have a modified experience for viewers using ad blockers

Wikia is not accessible if you've made further modifications. Remove the custom ad blocker rule(s) and the page will load as expected.