The user on this page is a Bungie.net Employee. For details and for a list of Bungie Employees, click here.
The Bungie Employee featured in this article is a Newbie.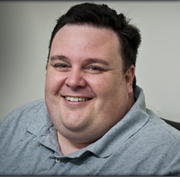 Noah "Replicant73" George is a Bungie employee, currently working at Bungie as a Support and Server Engineer. George's duties at Bungie include the creation of servers, internal tools, and supercomputers.
Biography
Edit
George went into Information Technology ("IT") straight out of high school, though he later obtained both a Bachelor's degree and a Master's degree (both in Business Administration) from University of Phoenix. He has spent his career dealing with large-scale IT issues, and prior to Bungie worked first at Microsoft Corp. (managing Microsoft's 250+ email servers for 60,000 global employees) and then at a large marketing and advertising agency as its IT manager.
George worked for Bungie through an outside vendor from late 2010 until July 2011, when he joined Bungie as a full-time employee.
One of the leaders of Bungie's Battlefield 3 (PC) Army
Plays guitar
Is a huge video game fan and hard-core gamer
Currently building a supercomputer for running distributed applications at Bungie
Ad blocker interference detected!
Wikia is a free-to-use site that makes money from advertising. We have a modified experience for viewers using ad blockers

Wikia is not accessible if you've made further modifications. Remove the custom ad blocker rule(s) and the page will load as expected.