Biography
Edit
First Job: Farm hand at a llama ranch
Hobby: Delinquency (online and offline)
Ultimate Halo Match: Slayer, plasma grenades only
Ultimate Snack: Canadian bacon
Ultimate Website: www.bentllama.com
Mode of Transport: Steel saddled nuclear-powered llama
Sexiest Llama Color: White
"Found near death in a snowdrift after a snowmobile accident in rural Canada, Nathan was rescued by mad scientists experimenting with llama cloning. To save his life, the scientists bent Nathan's DNA with that of the magnificent llama, and resuscitated Nathan back to health on a diet of pancakes, maple syrup and Canadian bacon. Revived with a new lease on life, Nathan made it his goal to aid the world with magnificent motion. When not animating Nathan offers up malevolent mischief in online game play, often seen in the corner of the map lobbing explosive pumpkins at enemy and ally alike, while spouting colorful commentary."
Nathan Walpole has a baby, as of 2006. His skill in parenting has increased by 1.
Former Bungie employee
Featured in the Halo 2 DVD Disc
Featured in the Halo 3 DVD Disc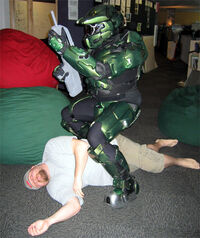 Ad blocker interference detected!
Wikia is a free-to-use site that makes money from advertising. We have a modified experience for viewers using ad blockers

Wikia is not accessible if you've made further modifications. Remove the custom ad blocker rule(s) and the page will load as expected.