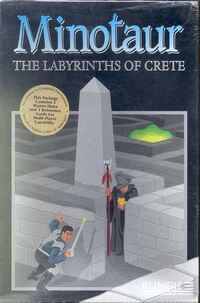 Minotaur: The Labyrinths of Crete is a 1992 computer game for the Macintosh OS. It was produced by Jason Jones and Alex Seropian It is an action/dungeon crawler type of game. It distinguished itself from contemporary games as solely multiplayer; it requires the use of AppleTalk or a modem to play. A single player exploration mode is available, but some of the features are dependent on having others in the party.
Gameplay
Edit
Up to seven people on different Macintosh computers create characters and throw them into a randomly generated dungeon. The more players in the game, the more goodies to be had. At the players disposal is an assortment of weapons, items, spells, etc... The goal is simply to survive and make sure you're the only one left alive. Because of this, people could (and often did) make alliances with other players against the rest.
Ad blocker interference detected!
Wikia is a free-to-use site that makes money from advertising. We have a modified experience for viewers using ad blockers

Wikia is not accessible if you've made further modifications. Remove the custom ad blocker rule(s) and the page will load as expected.