Becoming a Bungie employee is not just another job. For the people who work at Bungie, it is the opportunity to create AAA-caliber games in a fast-paced, collaborative, fun, and historic environment. Full-time jobs at Bungie are among the most sought-after in the gaming industry, and as a result the employees who make it through the grueling interview process are counted as being among the best-of-the-best in game development.
Bungie updates its public list of employees infrequently. This list of employees is based on publicly available information taken from a variety of sources, but as a result, may be out-of-date.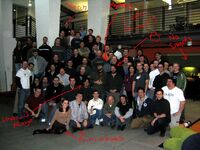 Current Bungie Employees
For more information on their classification, see Classification of Bungie employees.
Grizzled Ancients
(alphabetical by last name)
Old Skool
(alphabetical by last name)
Middle School
(alphabetical by last name)
Newbies
(alphabetical by last name)
Former Bungie Employees
Ad blocker interference detected!
Wikia is a free-to-use site that makes money from advertising. We have a modified experience for viewers using ad blockers

Wikia is not accessible if you've made further modifications. Remove the custom ad blocker rule(s) and the page will load as expected.