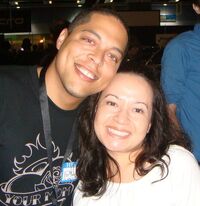 History and Summary
Edit
Jessica Shea (known online as bs angel) is the Community Manager for 343 Industries, the Microsoft-owned game developer responsible for managing the Halo universe and developing future Halo titles.
Prior to joining 343 Industries, Shea was a well-known and well-regarded Halo 3 and video game blogger (Hawty McBloggy), as well as a well-known member of the Bungie Community and frequent poster on Bungie.net. Shea shut down her popular video game blog in September 2010 as she joined 343i, and since joining, her presence in the online Bungie Community is rare.
As a blogger, Shea engaged her readers and fanbase in numerous screenshot, montage, photoshopping, and other contests, occasionally being permitted to award winners with Recon Armor and other Bungie swag. Her popularity grew with time. Her daily readership number varied, but her 2008 "Best of Halo" Awards program received over 13,000 votes and over 350 nominations. At the time that she shut down her blog, her dedicated forum boasted nearly 400 members.
Shea is an annual attendee at PAX, where she meets and greets community members, signs autographs, and manages 343 Industries' PAX booth.
Bungie.net Group Memberships
Edit
Ad blocker interference detected!
Wikia is a free-to-use site that makes money from advertising. We have a modified experience for viewers using ad blockers

Wikia is not accessible if you've made further modifications. Remove the custom ad blocker rule(s) and the page will load as expected.