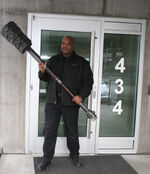 Jerome Simpson is the famous (or infamous) Head of Security at Bungie. He sits behind the main security desk at Bungie's Bellevue Offices and occasionally performs security/bodyguard duties for VIPs at Bungie-related events (for example, he acted as Jen Taylor's bodyguard at PAX 08).
Jerome gained huge popularity amongst the Bungie Community when he was featured in an interview during the Bungie Podcast. He has since been featured in Bungie.net news stories and additional podcasts because of his long career as a security guard, deep voice, humorous stories, and dealings with the shenanigans of other Bungie employees. He once discussed his experience of wrestling a bear, and has often talked of his frequent humorous dealings with zealous (and sometimes overzealous) Bungie fans loitering at the front doors.
Jerome has frequently been mentioned in gaming media profiles of Bungie and social media when fans and journalists happen to encounter him. In 2009, cracked.com named a photograph of Jerome guarding the parking lot of Bungie Towers one of the 8 manliest images on the internet.   In 2013, in a story by Polygon profiling Bungie, Jerome was described as "one of the largest men you'll ever meet . . . hill giant huge." Thanks to this exposure over the past several years, Jerome is now one of the most sought-after Bungie employees for fans seeking autographs, photos, and handshakes.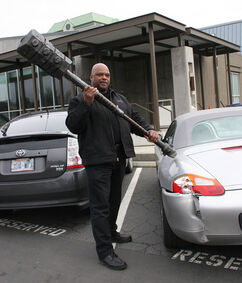 Jerome has mentioned the positive impact that his exposure on Bungie.net, Bungie podcasts, and internet news media has had on him.  He enjoys that Bungie fans now take greater notice of and interest in him and his career.
Jerome wears glasses
Jerome is also a huge Colts fan
Jerome fully admits to knowing very little about video games, and does not have an XBox Live or Bungie.net account
In addition to Jerome's exposure, there is now a medal named after him in Halo Reach. The medal is called "Hell's Jerome" and is gotten by killing 15 zombies without dying as a human in an Infection gametype.
Ad blocker interference detected!
Wikia is a free-to-use site that makes money from advertising. We have a modified experience for viewers using ad blockers

Wikia is not accessible if you've made further modifications. Remove the custom ad blocker rule(s) and the page will load as expected.