The user on this page is a Bungie.net Employee. For details and for a list of Bungie Employees, click here.
"Ah, Jay -- another guy who works."

~ Marty O'Donnell on Jay Weinland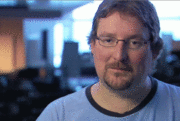 Jay Weinland is a Sound Designer and an Audio Lead at Bungie. He's had a pivotal role on the sound design of the Halo games since Halo: CE.
Nickname: Man Behind the Man

Current Job: Audio Lead, Bungie Studios

Weight: 190 pounds

Girth: Beer

Classification: Grizzled Ancients

Origin: Long Island

Height: 6' 0"

First Job: High school orchestra teacher

Hobby: Drivin' too fast, playin' my horns, reading all flavors of sci-fi/fantasy, and of course drinkin' beer - preferably of the insanely hoppy variety

Ultimate Halo Match: 16 player rockets on Hang 'Em High

Ultimate Snack: Peppered beef jerky

Ultimate Website: www.espn.com (sports nut)

Mode of Transport: 2003 Jetta GLI, 24-valve V6 with 6-speed manual

Fake Weapon: Classified
Biography
Edit
After 5 years at Oberlin College and Conservatory (BM/MMT) and 5 years of teaching I stumbled into games. 12 years in this freakin' industry and it seems I'll never learn. I equate finishing a game with women having a child (hear me out ladies) in the sense that if we actually remembered how painful it was we would never ever do it again. But here I am a couple dozen titles (and two children) later and still enjoying myself. Props to my wife, Seattle actress Heather Hawkins, and two beautiful children for putting up with all the gaming (it's research guys!) and long hours