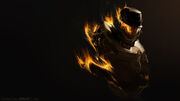 This article has not been laid out correctly.
The article does not comply with the Member/User Article Guide. To view the guide use this link: User Guide: Member Articles and User Pages. Please edit and change the page layout or this page may be deleted without further notice or warning.

iSystematiic Rank: 50, Mythic, SR130, Special Unit*
*Project Autumn; SUCCESS (Classified)
Weapon(s) of Choice: Battle Rifle, D.M.R, Sniper rifle, Covenant Carbine
S7 iSystematiic (above) -An extremely experienced Spartan... HALOTRACKER INHERITOR. TOTAL HALO KILLS BETWEEN ALL TITLES: 350,000 TOTAL DEATHS BETWEEN ALL TITLES: 187,000 H4-Sr130 H3-50 H2-40 Reach-Mythic
(Classified) </strike> S7 iSystematiic Overview- Mythic/Reach SR130/H4 50/H3 40/H2. But really he will F*** your day up.