The user on this page is a Bungie.net Employee. For details and for a list of Bungie Employees, click here.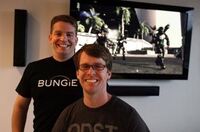 Nickname: Deripper
Classification: GrizzledAncients
Current Job: Arbiter
Origin: Earth
Blood Type: Red
Age: 4
Weight: 210 pounds
Height: 5'9"
Girth: Grunty
First Job: Slash and Burn
Hobby: Work
Ultimate Halo Match: Slayer, Rockets
Ultimate Snack: Vegans
Ultimate Website: http://www.shmoo.com/
Mode of Transport: Cheap, slow, dirty.
Greatest Fear: deltree
Harold Ryan is an American game tester and configuration tester. He has worked on several video games, including the Close Combat series, Crimson Skies, and Halo. He was born and raised in eastern Washington, his father served in the US Navy. He is currently a senior employee of Bungie Studios.
He was credited as test manager of Halo: Combat Evolved. He also served as test manager and producer for Bungie.net for Halo 2. He became studio manager at the start of 2006 and now leads a team of 115.
Harold Ryan was also the bearer of bad news for the Bungie community on July 15th, 2008 when he announced that the "secret announcement" that was planned to be made just 12 hours later was delayed by Bungie's publishers.
It was announced on January 27th, 2016 that he has stepped away from his position as President of Bungie Studios. His current role with the Destiny developer is unclear. No announcements have been made regarding Ryan's continued involvement with Bungie.
Ad blocker interference detected!
Wikia is a free-to-use site that makes money from advertising. We have a modified experience for viewers using ad blockers

Wikia is not accessible if you've made further modifications. Remove the custom ad blocker rule(s) and the page will load as expected.