Gnop!
("Pong" spelled backwards)
was the first computer game created and published by Bungie Studios. Alex Seropian authored the game in 1990, almost a year before Bungie's official incorporation. A simple PONG clone with added sound and graphics written and released nearly 20 years after the original, Gnop is simply Pong spelled backwards. Nevertheless, the game proved popular enough, and some fans purchased the source code, which Bungie offered for $15' (USD).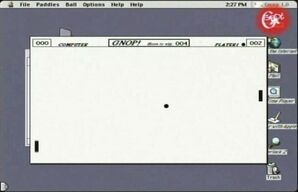 AvabilityEdit
A faithful recreation of Gnop in Adobe Flash is playable on http://gnop.bungie.org/
Owt Gnop ("Pong Two" spelled backwards) will be made when the jar that holds Ling-Ling's Head is broken.
Ad blocker interference detected!
Wikia is a free-to-use site that makes money from advertising. We have a modified experience for viewers using ad blockers

Wikia is not accessible if you've made further modifications. Remove the custom ad blocker rule(s) and the page will load as expected.