The user on this page is a Bungie.net Employee. For details and for a list of Bungie Employees, click here.
Nickname: Buddyro
Classification: GrizzledAncients
Current Job: Character/Vehicle 2D/3D Artist
Origin: East Patchogue, NY
Blood Type: 80% human - 20% other
Age: 37
Weight: 195 pounds
Height: 5'8"
Girth: Thick yet springy
First Job: Paper boy
Hobby: Being a husband and father in between work and sleep.
Ultimate Halo Match: Ones with vehicles in them!
Ultimate Snack: Oatmeal Raisin Cookies! So bad... yet so good ;)
Ultimate Website: http://www.zeitgeistmovie.com/
Mode of Transport: mod'd 97' Sebring conv't (daily beater), a mod'd 87 Fiero GT and an 05' Pacifica Touring
Fake Weapon: The BIRD, straight up, plain and simple. Mostly harmless, very fullfilling. always loaded.
Biography
Edit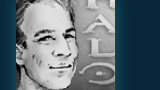 After bouncing from job to job, car sales, audio sales, sign maker, bagel maker... I hacked into a copy of NFS III and started making downloadable cars. Electronic Arts eventually got wind of it and gave me a job working on cars for NFS Motorcity.. Not too long after I came to Microsoft Games to work on a driving game for Xbox - that was cancelled only a month or so later. As luck would have it, Bungie needed someone to paint rocks, trees and dirt - I fit the bill. Now after more than 6 years with Bungie I'm responsible for making cool vehicles, characters, objects and anatomically correct naked aliens and holograms...Mom is so proud.
WAKE UP! Stop watching empty programming! Learn what is going on outside of the bubble you've created! Eat healthy and find ways to release stress! Let the little things slide and focus on doing at least ONE profound thing in your life - cuz' when you are gone, the only thing left to prove you were here are the stories you leave behind... HOW DO YOU WANT TO BE REMEMBERED? OPEN YOUR MIND 3A3N8U3N7N1A9K7I0E2N0K1I2
Ad blocker interference detected!
Wikia is a free-to-use site that makes money from advertising. We have a modified experience for viewers using ad blockers

Wikia is not accessible if you've made further modifications. Remove the custom ad blocker rule(s) and the page will load as expected.