Destiny
Talk

0
852pages on
this wiki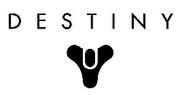 (Note: This page provides brief information on Destiny, Bungie's new game universe. For comprehensive information, please visit our affiliated Wiki here on Wikia.com at Destinypedia)
Destiny is a trademark registered by a Bungie affiliate and is confirmed to be the title of Bungie's next project set to be released on September 4, 2014. Though the name "Destiny" was long speculated through leaks and hints, it was not until a news article posted on February 12, 2013 that Bungie finally confirmed the title.
According to a contract between Bungie and Activision (more information here) and recent announcements, Destiny will be a series of at least four sci-fantasy action shooter titles. The first game is scheduled to be launched for the PlayStation 3, PlayStation 4, Xbox 360, and Xbox One consoles. There has been no launch date announced, but Activision has stated that the game is not expected to launch in 2013.
Although an earlier statement by a Bungie employee was misinterpreted as confirmation that Destiny would be a massively multiplayer online (MMO) title, this has since been clarified as being a joke.  A leaked contract between Bungie and Activision stated that Destiny would "include MMO elements," but stopped short of calling it an "MMO." 
The Destiny logo's trademark description refers to it as the logo for "computer game software downloadable from a global computer network," and was recently extended in March 2011. Further Destiny trademark information is available here.
Although originally speculated to possibly be affiliated with Bungie Aerospace, the two are now known to be unconnected.
Sources of More Comprehensive Information
Edit