The user on this page is a Bungie.net Employee. For details and for a list of Bungie Employees, click here.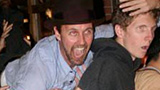 Current Job: Art Dept Manager
Origin: 0,0,0
Blood Type: Classified
Age: 37
Weight: 185
Height: 6'3"
Passions: Music, cooking, reading, ice hockey, exploring the neighborhoods of Seattle by foot
Recommended Reading: The Myth of Freedom - Chogyam Trungpa Rinpoche
Recommended Listening: [1]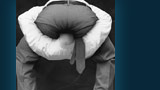 Biography
Edit
He was born and raised in the Northeast. He graduated from Virginia Tech with a B ARCH in 1994. After graduating he worked in Chicago from 1994-1997 until joining Bungie in 1997. He then moved to San Jose to work at Bungie West on ONI. After ONI, he moved to Seattle in 2000 to work on Halo. Currently he is very happy in Seattle.
Ad blocker interference detected!
Wikia is a free-to-use site that makes money from advertising. We have a modified experience for viewers using ad blockers

Wikia is not accessible if you've made further modifications. Remove the custom ad blocker rule(s) and the page will load as expected.