The user on this page is a Bungie.net Employee. For details and for a list of Bungie Employees, click here.
The Bungie Employee featured in this article is a Newbie.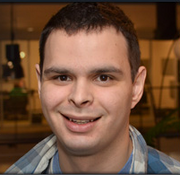 Darren Bacon is a Bungie employee, currently working at Bungie as a Senior Concept Artist. He works closely with the Art Director and production art team to help bring ideas and artwork to life. Along with the work of other concept artists, Bacon's artwork is currently helping to form the groundwork for the universe of Bungie's newest title.
Biography
Edit
Bacon grew up with an uncommonly awesome last name and dreams of becoming an automobile designer. Following several internships in the field, he decided to switch industries into gaming and film. Bacon attended the Art Institute of Seattle in Seattle, Washington and the Art Center College of Design in Pasadena, California.
After receiving certificates in Industrial Design and Product/Entertainment Design, Bacon held a number of concept art jobs in both video game design and film. His impressive resume includes art for such video games as the Command and Conquer series and such films/TV series as A Christmas Carol, Mars Needs Moms, and Tron: Uprising.
Bacon came to Bungie in October 2011 to assist in the creation of Bungie's next project.
Cites Syd Mead, Ralph McQuarrie, and Doug Chiang as major influences
Was a Bungie fan before joining as an employee
Loves free t-shirts
Probably loves bacon
Ad blocker interference detected!
Wikia is a free-to-use site that makes money from advertising. We have a modified experience for viewers using ad blockers

Wikia is not accessible if you've made further modifications. Remove the custom ad blocker rule(s) and the page will load as expected.