Beware! This user is a Emo, HIDE THE RAZORS!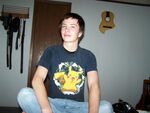 Real Life
Edit
Name: Chayne
Age: 25
Current Education: High School
Academic Activities: Junior Varsity football, Anime Club, Earth Club, and Book Club
Interests: One Tree Hill, Heroes, football, Naruto(Manga), writing, and Bungie.net.
Currently Reading: 1984 written by George Orwell
Favorite food: Chicken Strips
Favorite name: Peyton
Favorite number: 7 or 23
Coffey4780's life dream is to one day give life to children and raise a successful family while working with an excellent career that will be enjoyable. He excels at nothing other then his slightly intriguing gift of writing. He hopes to one day study a field of career that interests him.
At his high school he currently plays football. His offensive position is being a running back, while his defensive position is Free Safety.
Coffey4780 as a really huge obsession with the T.V. drama One Tree Hill and a minor obsession with the Naruto manga.
Bnet Life
Edit
Coffey4780 joined Bungie.net September 30, 2007 prior to purchasing Halo 3 and an avid poster. He wasn't that experienced as far as forums were concerned so he ignored the rules thinking that they were not important enough. Sooner or later he would get banned and would look into the rules and stickies more often learning the rules.
Coffey4780 started posting in the Halo 3 forum and was a minor contributor in the hunt for Recon Armor when the origins of it were still unknown to the public. At that time, he was a former poster in the off topic forum in the World of Warcraft website and decided to post in The Flood. He soon became very involved in the forums and the state of Bungie.net and the community. He posted often and started to be slightly recognized, though his account was fairly young.
In an effort to set the community together, he decided to make a Community Humpday in which members of the community would come together in three Xbox Live games. It turned out to be a great success. The community Humpday's went though several events before being changed into Community Carnages.
Due to a sudden change in thought, Coffey4780 thought that it would be a good idea to give up and permanently ban himself from the forums thinking that his time there was done. Five months later he was unbanned and has started posting again regularity on the forums.
It is rumored that Coffey4780 will take host in the Community Podcasts.
Single ;)
Loves the =D smiley and uses it a lot.
No longer plays Halo 3.
Coffey4780 (Not in use)
Ad blocker interference detected!
Wikia is a free-to-use site that makes money from advertising. We have a modified experience for viewers using ad blockers

Wikia is not accessible if you've made further modifications. Remove the custom ad blocker rule(s) and the page will load as expected.