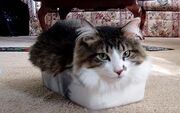 CatBread, also known as S1LENT B00MER has been a member of the Bungie community for over 3 years. He joined the website on June 25th, 2009 to upload videos from his fileshare to Youtube. He has joined multiple groups, and progressed since then.
Catbread has had multiple accounts on Bungie.net since he joined a few years ago. His most recent is S1LENT B0OMER, his newest alt. He has had 3 perma bans and roughly 7 temporary bans. The name CatBread comes from one of his friends, who suggested it. His original username, S1LENT B00MER was first made when he got his Xbox in 2008 at 12 years old. It was originally supposed to be S1LENT BOMBER but it was misspelled, creating the username. He uses CatBread for all memberships now, except Xbox live because of the fee for changing it, and on the Bungie forums because your unable to edit it. Halo 3 was his first game for the Xbox 360. He is now part of multiple groups.
Ad blocker interference detected!
Wikia is a free-to-use site that makes money from advertising. We have a modified experience for viewers using ad blockers

Wikia is not accessible if you've made further modifications. Remove the custom ad blocker rule(s) and the page will load as expected.