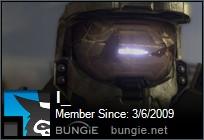 The Bungie Card is a little slice of either your Halo 3 player profile or your Bungie.net profile that you can take with you wherever you go on the internet. Add it to your blog, add it to your forum signature. Whatever you fancy, it's a window into your Halo 3 or Bungie.net soul. It's a customizable widget that you can use to show off your accomplishments in Halo 3. The cards usually update about every 30 minutes. If you have your gamertag linked to your Bungie.net Profile you can customize your Bungie Card's background with your favorite screenshot.
Ad blocker interference detected!
Wikia is a free-to-use site that makes money from advertising. We have a modified experience for viewers using ad blockers

Wikia is not accessible if you've made further modifications. Remove the custom ad blocker rule(s) and the page will load as expected.