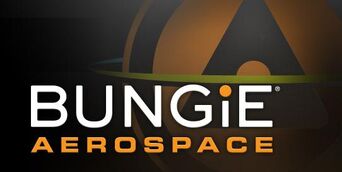 Bungie Aerospace is a current Bungie Inc. non-game project designed to partner Bungie with small, up-and-coming developers of mobile and social games. Until June 30, 2011, the project was entirely shrouded in secrecy. A press release and news update on the Bungie.net website on the 30th, however, revealed some details about the project.
Press Release and Bungie.net News Story
Bellevue, WA (PR Web) June 30, 2011 – Today Bungie launched the first phase of a new venture, Bungie Aerospace, created to help independent developers create brilliant mobile and social games. Bungie Aerospace will give studios the creative freedom and the resources they need, like access to the Bungie.net platform and an audience with the incredible Bungie community, to launch their entertainment experiences into orbit.
"Bungie has always been passionate about making and playing great games, regardless of platform," said Pete Parsons, Bungie COO. "Bungie Aerospace will allow us to explore game creation in multiple formats with some amazingly talented teams. Now that we've returned to our roots as an independent studio, we are in a position to launch Bungie Aerospace to support, foster, and elevate like-minded, independent developers."
Bungie Aerospace's first official partnership is with Seattle-based developer Harebrained Schemes, helmed by Jordan Weisman, the creative mind behind Halo 2's "I Love Bees" Alternate Reality Game, FASA Interactive, Wizkids, the MechWarrior and Shadowrun universes, and dozens of other creations and companies. The studio's first mobile gaming title, "Crimson," is set to launch this summer on iOS and Android devices.
More details about Harebrained Schemes' first mobile title developed under the Bungie Aerospace banner will be available in the weeks to come.
The name of the first and only Bungie Aerospace project, Crimson, was trademarked by Bungie Aerospace on May 4, 2011. In light of the nature of the project, this trademark activity, presumably, means that Bungie will provide legal and other support to small developers of mobile and social games in the future.
Bungie.net's Aerospace Project Page
Bungie Aerospace Official Website
CRIMSON trademark status

Ad blocker interference detected!
Wikia is a free-to-use site that makes money from advertising. We have a modified experience for viewers using ad blockers

Wikia is not accessible if you've made further modifications. Remove the custom ad blocker rule(s) and the page will load as expected.