About BungiePro
Edit
BungiePro is an add-on service that enhances your gaming experience by allowing you to render your
Halo 3
,
Halo 3: ODST
and
Halo: Reach
clips. Once rendered you can download the clips to your computer. BungiePro was added to
Bungie.net
on the 07.07.2009 (Bungie Day 2009), the original thread now used for BungiePro bugs can be found
here
.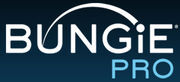 The cost of BungiePro
Edit
Six months of BungiePro is 320 Microsoft Points. Additional minute packs (50 render minutes each) can be purchased right on Bungie.net for $5.00 USD (£3.13 GBP).
How to buy BungiePro
Edit
From the 15th of September 2011 BungiePro was stopped. Full support will be phased out on 3/22/2012. Six months of Bungie Pro is 320 Microsoft Points through 9/15. Afterward, Bungie Pro Video will be offered in pay-as-you-go form via the Render Minute Packs available through Bungie.net. Players will no longer need to be a Pro member to buy them. For more information on BungiePro click here.
End of the Halo-Era BungiePro
Edit
Members on bungie.net were told that they should use up all their render points that they have left as these points were for the Halo-Ear. Bungie said however, that BungiePro will remain for their next Universe. The thread created by sawnose in which this was announced can be found here.
Ad blocker interference detected!
Wikia is a free-to-use site that makes money from advertising. We have a modified experience for viewers using ad blockers

Wikia is not accessible if you've made further modifications. Remove the custom ad blocker rule(s) and the page will load as expected.