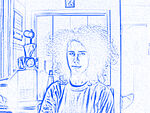 "This boy needs some love. And a haircut."

~ SS_Zag1 on Anelf3
Real Life
Edit
Born: September 22, 1986 - San Francisco, California
Bungie.net Life
Edit
Although slavery was abolished in the United States in 1863, Anelf3 is still under the command of Marty O'Donnell, cringing at every crack of the whip, and always begging forgiveness for spilling coffee on Marty's sheet music. However, he proudly states that the benefits are well worth the multiple lashings. What, exactly, those benefits are, is unknown. What is known, however, is that Anelf has hair the likes of which that have never been seen upon the Earth, although it is currently much tamer than it used to be (see picture for the latter).
Anelf is overlord of The Marty Army Clan, a veteran member of The Marty Army and is a composer at The Marty Army Music.
Joined Bungie.net and The Marty Army on 1/19/04.
Lives in Sonoma County, which is also where Joseph Staten was harvested from the vineyards of.
Has been playing the piano since age 8.
Is currently taking music theory classes at Santa Rosa Junior College.
Is a huge fan (musically) of Marty O'Donnell and Jerry Goldsmith.
Got his student pilot certificate the day he turned 16 (the minimum age) and has been working on getting the full private pilot license for a total of five years now (thanks to alot of procrastination and on-and-off dedication to it).
Gamertag
Edit
Anelf3
Ad blocker interference detected!
Wikia is a free-to-use site that makes money from advertising. We have a modified experience for viewers using ad blockers

Wikia is not accessible if you've made further modifications. Remove the custom ad blocker rule(s) and the page will load as expected.