The user on this page is a Bungie.net Employee. For details and for a list of Bungie Employees, click here.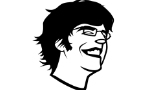 Nickname: Cuban
Classification: GrizzledAncients
Current Job: Programmer
Origin: NJ, Pittsburgh
Age: 29
Weight: 185 pounds
Height: 6'3"
Biography
Edit
Showing up at Bungie a scant two months before ship on Halo 1, Adrian tried his best to help out. Instead he wrote the loading screen. Now older, wiser, and bitterer, Adrian strives to kick ass on Halo 3 and beyond.
Ad blocker interference detected!
Wikia is a free-to-use site that makes money from advertising. We have a modified experience for viewers using ad blockers

Wikia is not accessible if you've made further modifications. Remove the custom ad blocker rule(s) and the page will load as expected.