The user on this page is a Bungie.net Employee. For details and for a list of Bungie Employees, click here.

AGDTinMan's real name is Andrew G. Davis. He is a contract animator and artist and worked at Bungie Studios from 2004 until 2006. TinMan designed graphics for bungie.net, most notably the Halo 2 Stats section and Halo 3's main page. He crafted images for promos and took screenshots for magazines.
TinMan also worked on refining and coloring the Halo Graphic Novel, as well as things like the Halo 2 Vol. 2 Soundtrack art and the Halo Xbox 360 faceplate. Working as a freelance artist, TinMan got a gig with WizKids in which he did graphic design for trading cards. TinMan has also worked as a character animator on the "Snooper Trooper" TV show. TinMan is a graduate of Savannah College of Art and Design in Savannah, Georgia. His works have received numerous awards. Bungie.net's Halo 2 Stats section received an IGN "Best Of" award for overall brilliance, so much so that it won without even needing to be an actual game.
On Bungie.net
Edit
AGDTinman posts every once and a while, having posted over 300 times since he joined on 09.27.2004. His

Title Bar is rather strange; he has the title of "Bungie Employee" but the Title Bar color of a Legendary Member.
---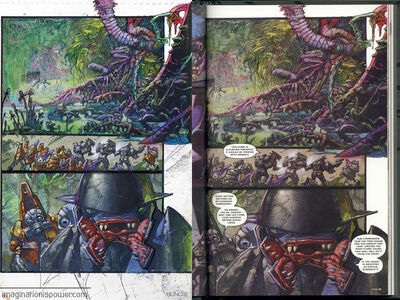 Halo Graphic Novel page, painted by Simon Bisley, edited by Tinman
External Links
Edit
Andrew G Davis: Imagination is Power
Ad blocker interference detected!
Wikia is a free-to-use site that makes money from advertising. We have a modified experience for viewers using ad blockers

Wikia is not accessible if you've made further modifications. Remove the custom ad blocker rule(s) and the page will load as expected.